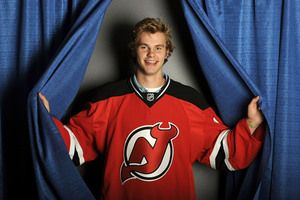 One of the highly touted prospects for the Devils, Jon Merrill made his NHL debut for the Devils tonight — and two shifts in, ended up bloodied and leaving the ice with the help of the trainers and his teammates.
As of 9:57 PM the latest from Tom Gulitti of Fire & Ice was that he's got "lacerations" and wouldn't return to the Devils game.  He was hurt while racing for the puck with Minnesota Wild forward Torrey Mitchell.  He seemingly lost his footing and then Mitchell's body tangled with him to propel him face-first into the boards.
During the 2012-2013 season while playing for the University of Michigan, he fell after being hit during an exhibition game into the boards and ended with a fractured vertebra.  He missed 19 games and was confined to one of those full upper body neck braces that left him unable to move for months.
Tonight, Merrill made his debut because Peter Harrold was put on retroactive IR and he was called up from the Devils AHL team in Albany where he has been playing this season.   According to the Devils play-by-play announcer, Steve Cangialosi, he flew from Albany to Minnesota this morning and some of his friends and/or family were also at the rink.
@DevilsTweetFeed has a NSFW / super bloody picture of the aftermath of Jon Marril's face here on his twitter feed.
The Devils ended up losing 4-0 (or they won 1-0 if we are to go by what MSG said) after they lost last night 1-0 to the Flyers with Ray "Probably Should Not Have Been in Goal" Emery getting the shutout win.
According to Tom Gulitti at close to 11 PM (EST), Merrill was not available to talk after the game and even more importantly, he had a base line test (i.e. to check, even if it's never really 100% accurate, for concussions) as well as, obviously a few stitches to put his face back together.
Here's hoping that he'll be okay and have a "great" story to tell his grandchildren about his NHL debut at the start of his long and healthy NHL career.