Photo: The Hockey Writers
By Andrew Bensch of The Hockey Writers 
Having played through the college level (2013 grad), yours truly has been a part of a number of hockey locker rooms. When the media aren't around, homophobic comments are still far too common. In a male dominated, Caucasian dominated, wealthy dominated sport, hockey is arguably the toughest sports environment for a gay player. This isn't to reverse stereotype all rich white men, but let's be honest, as a group, they have never been trailblazers for social awareness.
While both the NBA and the NFL have had openly gay players in Jason Collins and Michael Sam, no NHL player has yet to follow suit. Unfortunately, given hockey's culture, it wouldn't be surprising if it were to end up being the last of the four major North American sports for this to happen. Minorities don't exactly make up a large percentage of hockey players. This study didn't even bother with the NHL when it came to analyzing diversity amongst the top professional sports leagues. 
Niche Sport
Ice time isn't easy to find and it's not cheap. Therefore, it makes complete sense for kids to flock to other sports. Perhaps the NHL needs to invest in more roller hockey programs in order to grow the game and make it more affordable to everybody. If hockey were cheaper, and spread through different youth cultures, it would do wonders to help social awareness. San Jose Sharks right wing Tommy Wingels is a board member for the You Can Play project, he talked about the difficulty of growing the game he loves.
"Hockey is an expensive sport, you see a lot of people gravitating towards the other sports because they are a lot cheaper. Basketball you [just] buy a pair of shoes and a ball. Baseball, soccer, same thing. I think it's something as a game that we need to figure out how to get more kids involved. I'm not sure what the answer is but as a league it's something we can work on."
Brendan Burke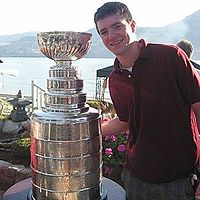 Wingels, 26, is starting his third season as an established NHLer. Before reaching the NHL, Wingels starred as college player for the Miami (Ohio) Redhawks. The Illinois native captained a team that included the late Brendan Burke. The son of Calgary FlamesPresident of Hockey operations Brian Burke, Brendan was both a player and team manager for the Redhawks. He made numerous headlines for coming out as gay in 2009. According to Wingels, he wasn't treated any differently than anyone else on the team.
"He just was one of the guys. If we were in the locker room working out, he was in there working out. If it was Sunday watching football with a bunch of guys getting together, he was there sitting with us. Ultimately it didn't matter his sexuality. As I've said a million times it didn't change anything about him or his relationship with anyone else."
Burke's story is the inspiration for the You Can Play project co-founded by Brendan's brother Patrick. The foundation has done a lot of work to foster awareness and acceptance of all sexualities in the sports world. Local star athletes, including the Sharks' Joe Thornton,participated in this You Can Play advertisement a few seasons ago.
For comments on the article, tweet @ViewFromBensch