(photo: cwhl.ca)
If you're a fan of hockey, obviously your instinctive answer to this question should be: "WHAT ARE YOU SAYING? OF COURSE THE CWHL SHOULD EXPAND." More teams mean more games, more accessibility, more merch, more fans, and most importantly, more opportunities for female players. Hopefully, one of those opportunities will eventually include that magical thing called "a salary," which the CWHL cannot currently afford to extend to its players.
As it stands, there are five teams in the Canadian Women's Hockey League: the Boston Blades, Brampton Thunder, Calgary Inferno, Montreal Stars, and Toronto Furies. According to ESPN, CWHL commissioner Brenda Andress has said that the league currently has bids from four more cities: Minneapolis, Chicago, Detroit, and New York City.
The State of the Union
But before we can talk about growth, we have to talk about the status quo. The CWHL actually made money last season, bringing in about $1.2 million in revenue. That might be chump change compared to the NHL's revenue of $3.7 billion in the 2013-2014 season, but it's not nothing.
The issue here is that much of the CWHL's revenue came from Canadian corporate sponsorships. The key word there is "Canadian," which is the land of milk and honey as far as hockey fanaticism goes. Winning over American sponsorships may be a more difficult task.
"We don't have a major U.S. sponsor," Andress told ESPNW earlier this month. "On the American side, we need to get some sponsors on board that not only cover expenses but embrace the league."
Finding viewership stateside has always been something of a hurdle for hockey as a sport, much less a small women's league. But a bump in viewership and media attention thanks to the Olympics has helped. More than 6 million people watched the Olympic Women's Ice Hockey gold medal game, more than double the numbers from 2010.
Honestly, while this may indicate a growth in interest, it also indicates a growth in widespread social media use. On September 8, 2011 Twitter announced that it had 100 million active monthly users. As of today, that number has leapt to 255 million, not including its 40 million Vine videomakers. For a sport which has consistently struggled to get media coverage, that kind of homegrown publicity is huge. It allows for greater visibility, greater human interest, and far easier access for casual fans of the sport (or the Olympics in general).
The ability to support the infrastructure required to maintain "casual fans" is not easy; it requires a level of accessibility that costs money and time.
Casual fans aren't the type who will spend hours and hours driving to get to a game; they need easy, fast access, or you will lose them. The CWHL is taking the steps to cater to those fans: this season was the first ever to offer free online streaming of CWHL games. Every season, being a women's hockey fan gets easier.
The CWHL is more profitable, more highly watched, and more freely accessible than ever before.
"Financially, we're in a great place and we're ready for it," Andress said.
Looking Forward
Of course, not everyone has embraced the idea of expansion. As Digit Murphy, coach of the Boston Blades, told ESPNW: "We need to start to figure out a way to generate a revenue stream for the existing five teams… I'm not anti-any other team in the U.S. But I'm pro-resource distribution to our athletes."
In Murphy's ideal world, what the CWHL needs is a $22 million endowment to stand on its own two feet.
That's a beautiful dream, but it's a dream that costs $22 million, which is more than most people happen to have on hand. Still, it may be more sensible in the long run to build a small, fiscally solvent league than overextend on too many teams.
Andress, on the other hand, has more immediately achievable goals in mind. Over the next 18 months, her goal is to raise $3.2 million. With that, the CWHL could cover all its expenses and pay players $15,000 per season (roughly $3000 a month). It's what you might expect to earn from a particularly generous entry-level job, certainly enough to live on.
So if Andress can raise the money, and if the CWHL is able to find American corporate sponsorships to buoy for the league's finances, what then? Where does the CWHL go?
East or (Mid)West?
Putting aside my personal burning desire for a Chicago franchise that I can throw money at, which of these cities offers the best opportunity for profitable expansion? Andress has admitted her preference for a Midwestern location, hoping to connect Calgary to the rest of the league. The Hockey Writers were kind enough to draw up a telling graphic of the current and potential CWHL franchise locations: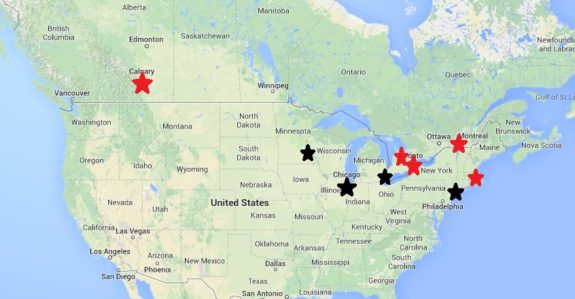 Calgary, as you can see, is not next-door. To anybody. Even expanding to Minnesota would only get the league halfway.
But there are other benefits to a Minneapolis expansion. For one thing, the Minnesota Lady Gophers are a huge draw. Far and away one of the top teams in NCAA Women's Hockey, the Lady Gophers have a strong, loyal fanbase, one which could hopefully be siphoned off into the professional team. The Lady Gophers also have the actual Lady Gophers themselves, an enormously talented group of athletes who may be more willing to go professional if the team doesn't require a coastal move. Hockey in the U.S. has always been strong in the Midwest; a franchise in Minneapolis would have eight NCAA women's hockey programs to scout from.
Chicago and Detroit would also both allow the CWHL to piggyback on existing fanbases: the Red Wings and the Blackhawks. While there's certainly no question of competition, opening a franchise in established hockey towns at least keeps you from working at a deficit.
But the Midwest brings its own set of issues. Travel, for one thing; it costs far more to shuttle a team from Minneapolis to Boston than it does from New York. Keeping the league reasonably close together cuts down on travel time and money, and allows for less travel for fans. Nobody is going to watch a Calgary game except people who already live in Calgary. On the other hand, there's an Amtrak direct from Manhattan to Boston. There's almost certainly a Megabus for a fraction of that cost.
Plus, New York doesn't want for nearby NCAA talent, or an existing hockey market. The Rangers may not run NYC the way the Red Wings do Detroit, but there's a long history there, certainly enough that there would be no need to manufacture hockey fans out of thin air. Not to mention the fact that New York City is easily accessible from just about anywhere, and women's hockey fans in D.C., Philadelphia, Baltimore, and New Jersey would suddenly be little more than a bus ticket from the new franchise. Minneapolis, Chicago and Detroit can't quite say the same.
So the winner is…
Chicago.
Forget everything I just said: come to Chicago. "Chiberia" is an affectionate nickname, mostly, and in some places you can get two bags of pretzels for just $1. I don't have $22 million for an endowment, but by God I can at least foot the bill for snacks.