When Joshua Harris and David Blitzer purchased the New Jersey Devils in August, they gave us one instruction: "Make the Devils the best franchise in sports- on and off the ice".    
Our objective is, and will always be, to build a franchise that makes us all proud. The Devils' decades of success on the ice comes from a dedication to key principles: integrity for hockey, a team-first commitment, class, and dignity. Our players never taunt or disgrace our opponents no matter the circumstance. We play hard every shift and we play for the front of the jersey. These core values have defined what it means to be part of the Devils Family. Unfortunately, the organization hasn't always lived up to the high standards we have established on the ice. We are charged with changing that.   
Universally loved traditions should never change. Over the last few years certain fans started chants that offended a large portion of our fan base and turned off others.  Our strength is our unity. We want a game experience that represents what we are on the ice, makes all age groups proud of who we are, and represents our community.   
You are the key to making that happen. We want to reset a tradition that represents who we are on the ice, what it means to be in the Devils Family.   
We would like your input in selecting a new goal song. We will take your suggestions and introduce the most popular in each of the next three home games. These songs will be suggested by and voted on by you the fans. The winning song will be played on November 2 in our game against Philadelphia.   
We are glad that you are passionate about your Devils traditions and hope that you are equally excited to be part of the new traditions we will be making in the decades to come.  The home ice advantage is in all of our hands.   
Sincerely,   
Lou Lamoriello (GM), Scott O'Neil (CEO), and Hugh Weber (President)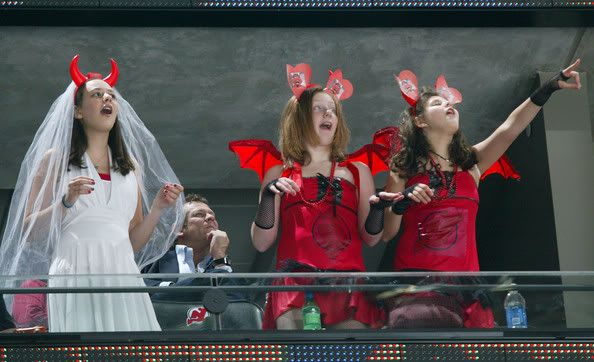 Long letter short; the Devils new Overlords dislike how "classless" the whole chanting "HEY! YOU SUCK" to (a cover of) Gary Glitter's Rock and Roll Part II that they used to play after the Devils would score at home.
Personally, I think it's silly because this is sports.  You are going to  hear some bad words and outside of us playing the Rangers or Flyers, very few fans even really mean it, it's just something fun to scream with people who understand you.
On the other hand, I do realize that I learned the phrase "fuck you motherfucker" when I was 5 by my grandmother who was watching an ice skating competition, so I know that what was okay for me as a young kid (who actually didn't even get into sports until I was in my teens) might not be ok for everyone.  If by "everyone" I mean mostly mean children in this case.
Plus, they'll never really be able to stop the Devils fans from starting the 'Rangers Suck' (Flyers Swallow:  Avery Watches) whistle.  So, for those of you who enjoy a little vulgarity in your sports, there will always be that, even if the ending part is wayyyyyy more offensive then a random Wednesday Night "Hey, you suck (not-even-in-our-conference-St-Louis-Blues)!"
You have until Oct. 27th to tell the Devils what they should play every time the Devils score (if you say either the MUP MUP MUP song or Seven Nation Army, so help me Ghost of the Devils Defense, I will hunt you down)
But, don't worry.  Have you seen how the Devils are playing this season?  It's pretty unlikely that we won't be hearing whatever new and terrible song they choose that often this season anyway…