"Without music, life would be a mistake."
― Friedrich Nietzsche, Twilight of the Idols
While some would claim that you could take "music" and put in "hockey" instead, I am one of those who believe that a life with both is just as amazing.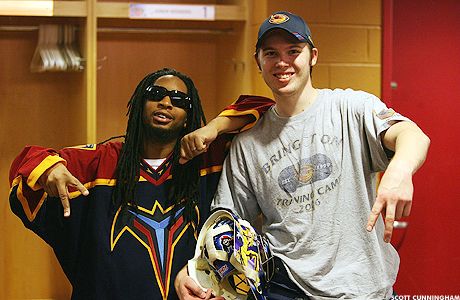 I am in the possible minority of those who love the music clips of songs playing in arenas (I mean, given the choice between some 90s grunge song or a 16-year-old cartoon character screeching "GO (TEAM) GO" — I would hope most sane, rational hockey fans would choose "song clip!") because it adds to the experience of being alive and watching your favorite (or least favorite) team play while hearing good music.   Even if most of the time it's not even the full chorus of the song, which just makes you the crazy person scream!singing the rest from the nosebleed seats because OCD is a helluva drug.
For the first few years of the Devils being in their new home Newark (and I will continue to call it their new home until we have a championship party in Championship Plaza and a drunken Travis Zajac ends up climbing the military tank that is there as part of the "Devils Army" stuff.  You have your goals, I have mine) there was not a lot of change in the music for the pre-skate.  I'm pretty sure it was just the first handful of songs on the Foo Fighters' In Your Honor (just disc 1, not disc 2).  Because of this, I'll forever associate those songs with Alexander Vasyunov, who died in the Lokomotiv Yaroslavl crash, but had played for a handful of games in the 2010-2011 season
Somehow, possibly because Danius Zubrus went home to Lithuania a few years ago and instead of "Radio Disney" music, he came home with a bunch of club music to play for the pre-skate music, the music has been slowly getting out of 'lonely teenage boy music for headbanging alone in their bedroom music' and a little bit more 'I can actually kind of dance to this!' music.  That being said, when my Patrik Elias played his 1,000th game and I was standing a row away from his wife, has forever been ruined by the fact that now any time I hear that weird Nicki Minaj & David Guetta song about robots and turning them on, I will think of the Elias'.
That's all on you, Zubs.
Anyway, and when the game actually starts… depending on what season it is or how much we've upset the local Newark religious congregations, one of the greatest openings to a hockey game (ignoring that I've only seen 4 other intros live — trust me when I say I'm working on that) is AC/DC's Hells Bells.  This youtube clip isn't the best (laughing Satan shows up way too late and it should be a lot darker), but it's still pretty decent;
What songs do your teams play that you love (or hate.  I'm always down for hate)?  What songs do you hope they'll be playing this season?  I'm hoping Zubrus brings some Avicii – Wake Me Up to the masses at the Devils Arena this season.